Convert HDR to Black and White in Photoshop
Convert HDR to Black and White in Photoshop
Photoshop has a very powerful tool to convert color high dynamic range (HDR) images to black and white. It gives you a significant degree of control over how the final image looks. You can turn blue skies dark, green grass light, red features gray, and so forth. It gives you a lot of creative freedom.
1

Choose Image→Adjustments→Black & White.

In the Black and White dialog box that opens, there are many more options than in the Photoshop Elements method, but they work similarly.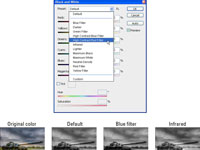 2

(Optional) Select a preconfigured preset from the Preset drop-down list.

Options include choices such as Darker, High Contrast Red Filter, and Yellow Filter. Scroll through the list and find one you like.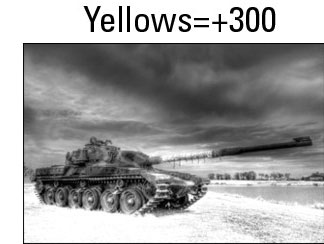 3

Use the color sliders to alter color percentages.

These six colors create the tonal mixture of the black and white. For example, increasing the amount with the Blues slider increases the intensity of the blue channel during conversion, which lightens the resulting grayscale image. This makes skies, water, and other blue objects lighter.

You can, therefore, lighten or darken specific areas of the black-and-white image by increasing or decreasing the color percentage of one of the six colors. Choose the color that is dominant in the area you're working in. (Make sure to select the Preview check box to see your changes in real time.) In this example, the preset is High Contrast Red Filter, with different yellow adjustments.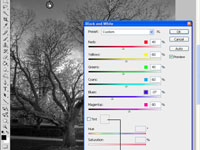 4

(Optional) You may also click in the image and then drag left or right to decrease or increase the color percentage based on the source color of the area you clicked.

This is a fast and effective way to modify the black-and-white image's tones.

You're not colorizing the image when you make changes to the color sliders. Rather, you're adjusting the gray tone of the specific color you choose. This lets you make blues dark gray and reds light gray, for example.
5

(Optional) Click the Auto button to let Photoshop assign color percentages based on its own best judgment.

If you don't like it, you can undo the results.
6

When you're happy with the results, click OK.

If you want to now colorize the image, select the Tint check box and then click the Color Picker to select a tone to colorize with. Alternatively, control the color by modifying the Hue. Control strength with Saturation. Then click OK.