Transferring Digital Images from Your Camera to Your Windows Computer
Transferring Digital Images from Your Camera to Your Windows Computer
You can easily transfer images from your digital camera to your computer. This camera-to-computer transfer requires that you've installed your camera's driver on your PC. To move photos from your digital camera or card reader to your PC
1

Plug your digital camera or card reader into your PC.

Run a USB cable from the camera to a USB-2 port on the computer.
2

Turn your camera's power switch on.

You may also need to place the camera in Connect mode. Most card readers power up automatically.
3

On your PC, choose Start→My Computer.

The My Computer folder opens.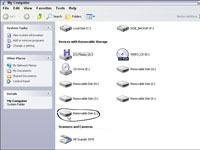 4

Double-click the drive that represents the digital camera's memory card storage.

The drive's folder opens.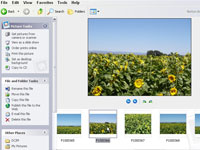 5

Double-click the appropriate folder containing your photos.

The photos in this folder appear just as if they were in a directory on your hard drive, as shown in this figure.
6

Select the image you want to transfer to your computer.

Click the image to select it.
7

Choose Edit→Copy to copy the image to the Clipboard.

The Clipboard stores your image until you paste it somewhere.
8

Navigate to the folder to which you want to transfer the file and choose Edit→Paste.

The picture appears in the folder on your computer.