How to Publish Your Digital Photos to Your Blog
How to Publish Your Digital Photos to Your Blog
Internet blogs are much more interesting when you add images to your blog posts. You can easily upload your digital photos to your blog site, sharing your photographic skill (or maybe lackthereof) with the World Wide Web.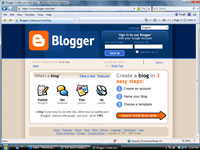 1

Sign up with a blog hosting service.

You can find free blog hosting services, such as Google's Blogger. Blogger's opening page (shown in this figure) lets you to sign up for an account and identify your blog name. Walk through the easy-to-follow wizard to create your blog.
2

Save your image files in a Web-friendly format.

Usually, you need to save your files as GIF, JPEG, BMP, or PNG.
3

Optimize your images for file size.

Be certain your images are 72 ppi (pixels per inch).
4

Log into your blog account.

Your blog host provides you with options for uploading images.