How to Establish Your Image Editing Workflow
How to Establish Your Image Editing Workflow
Establish a workflow that you use to edit your digital photos. A workflow is the order in which you perform all the tasks associated with image editing in particular circumstances. A well-planned workflow can actually save you some time in the long run: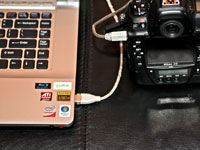 1

Transfer your photos from your camera to your computer.

This image shows a camera connected to a computer by using a USB cable.
2

Use a standard destination for saving your images.

This point in your workflow can help determine how easily you can locate a particular image at a later date.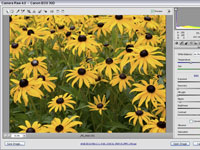 3

Convert any Camera Raw files.

You can convert your Camera Raw files at various points, including while you transfer (as shown in this image), as a group after transferring, or individually when you're ready to edit.
4

Set a routine in your image editor.

You have a lot of options after you import a photo to your image editor. The order in which you crop photos and adjust color, for example, can be important, so establish your routine.