Editing Your Digital Photos Like a Pro with Advanced Image-Editing Software
Editing Your Digital Photos Like a Pro with Advanced Image-Editing Software
If you edit pictures on a daily basis or just want a lot of control over your images, you may want to use an advanced photo-editing program, which provides you with flexible, powerful, and convenient photo-editing tools:
1

Spend plenty of time looking over the program manual or a third-party book to become familiar with using the software tools.

For example, you can pick up a copy of Adobe Photoshop CS3 For Dummies (Wiley), by Peter Bauer, if you want to use that editing program. These programs can be intimidating to new users, and they're not exactly intuitive.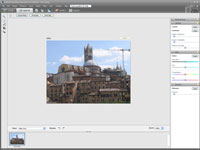 2

Make specific changes to your image in your software.

For example, you can adjust the highlights, shadows, and midtones independently (as shown in this figure). In some programs, you can even apply exposure adjustments in a way that preserves all the original image data in case you decide later that you don't like the results of your changes.
3

Use tools that let you accomplish complicated tasks quickly.

Some programs enable you to record a series of editing steps and then play the editing routine back to apply those same edits to a batch of images, for example.