Deleting a Layer in a Digital Photo in Adobe Photoshop Elements
Deleting a Layer in a Digital Photo in Adobe Photoshop Elements
To adjust how your digital photo looks, you can delete a layer (or layers) from that photo. Deleting a layer removes that layer's contents from the image file. Use Adobe Photoshop Elements to delete a layer from a picture:
1

Open a layered image in Elements.

Choose an image from which you want to remove a layer.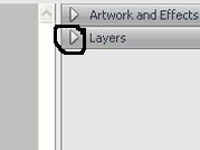 2

If it's not already visible, open the Layers palette.

To make the Layers palette visible, click the arrow to the left of Palette Bin in the lower-right corner of the Elements window and then click the Layers tab.
3

Select the layer that you want to delete.

Click a layer in the Layers palette to select that layer.