How to Take a Great Portrait with Your Digital Camera
How to Take a Great Portrait with Your Digital Camera
Portraits are posed photos that you take in a controlled environment. Creating portraits with your digital camera demands some special skills, but portrait techniques aren't difficult to master. Take care of these simple aspects of digital photography portraits:
1

Make it possible for your subjects to look their best.

A portrait subject who feels confident about his or her appearance will photograph well!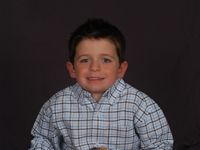 2

Get to know your subject's personality.

Be careful about trying to make a somber, serious individual look cheerful and whimsical; the picture can look forced and fake, like in this figure. Use what you know about the subject to create a portrait that reflects his or her personality.