How to Take a Digital Photo in Black and White
How to Take a Digital Photo in Black and White
Most digital cameras have options for creating black-and-white photos. With most cameras, you just select the black-and-white photo option from a menu, and you can start taking those artistic images in black and white. Explore the different options available for your camera: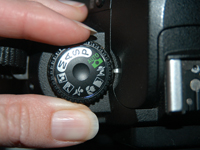 1

Put your camera in Portrait mode.

Alternatively, you can switch to Aperture Priority mode and choose a large aperture (small f-stop number).

You can skip this step if you choose, but putting the camera in Portrait mode or choosing a large aperture narrows your range of focus and gives your finished photo a much more artistic feeling. And if you're shooting in black and white, you probably want to be artistic.
2

Select the Black and White setting in your camera's menu.

You access this setting differently on each camera. Refer to your camera manual for details.