Creating High Dynamic Range Photos
Creating High Dynamic Range Photos
A high dynamic range (HDR) photograph combines multiple photos into one, each with a different exposure (or in this case, shutter speed). The result is a photo that brings out all the colors and ranges in something that looks almost like a modern work of art, with exaggerated colors and contrasts. To achieve the effect, you need a dSLR to adjust your shutter speed. You also need some type of software that produces an HDR effect, such as Photomatix, Photoshop, or Photoshop Elements.
Follow these steps to create an HDR image.
1

Find a suitable subject, such as a building, car, or landscape.

If you're shooting outside, early morning or late afternoon provides the broadest range of contrast and color. Note that taking HDR photos of people or animals usually isn't ideal because you're taking multiple shots and combining them — and because they move, they tend to get blurry.

Keep your shots as steady as possible with a tripod, and turn off any image stabilization or anti-shake features.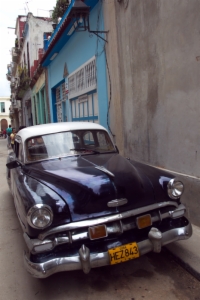 2

Set your camera to manual mode and establish an exposure that produces a quality image of your subject with the correct aperture, shutter speed, and a low ISO.

This car was shot at 1/320 shutter speed.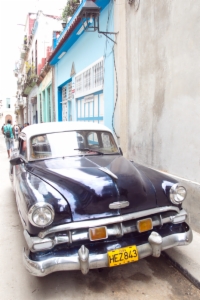 3

Snap an overexposed image of the same shot.

Say your correctly exposed photo is shot at a shutter speed of 1/320. To produce the images needed to do HDR processing, shoot at least one overexposed image, say at 1/80.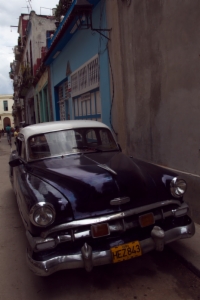 4

Now shoot one underexposed image at 1/800.

This gives you three photos of the same thing, with the same ISO and aperture, but the shutter speed variance makes the images look too dark, just right, and too bright. Most HDR processing software accepts multiple files to create an HDR image. The more range exposure, the wilder your image can become!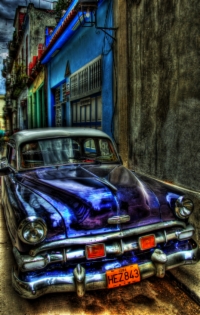 5

Load the series of differently exposed shots of the same subject into your HDR processor.

Photoshop includes an HDR capability (File-Automate-Merge to HDR Pro) or you can use a commercially available HDR processor such as Photomatix by HDRSoft. These software applications or features will take your multiple photos with different exposures (of the same subject), merge them together, and give you the option to adjust the exposure in a variety of ways to create dramatic effects

The HDR processor automatically aligns the images and produces one photo. Some software, such as Photomatix, gives you various options for adjusting the photo further, after it's been processed, with a variety of controls such as white and dark points, color saturation, shadows, sharpness, and so on. (In Photoshop or Photoshop Elements, choose FileAutomatePhotomerge.) There are a lot of fun ways to tweak HDR images to satisfy your inner artist!