How to Connect Your Nikon D5300 to a Smart Device for Wi-Fi Transfer
How to Connect Your Nikon D5300 to a Smart Device for Wi-Fi Transfer
Technology is grand. It gives you so many options. You can connect your Nikon D5300 to a smart device for wi-fi transfer. To connect your camera to your smart device, take these steps:
2

Select Network Connection, press the Multi Selector right, and choose Enable.

Press OK.

4

Select a connection option.

Which option you use depends on your device:

Push-button WPS (Android only): Some Android devices offer a WPS (Wi-Fi Protected Setup) feature that enables you to initiate a connection just by pushing a button. If your device has this feature, choose Push-button WPS, and press the Multi Selector right. The camera displays a screen prompting you to press the WPS button on the device and begins searching for a connection.

PIN-entry WPS (Android only): If your device uses a PIN (personal identification number) for wireless security, select this option and press the Multi Selector right. On the next screen, enter the PIN and press OK to connect.

View SSID (Android or iOS): Your camera is assigned an SSID number (Service Set Identifier), and, after a few moments, the SSID appears as an available network on your smart device. Select the camera's SSID on your device, and then choose the Connect option on the device.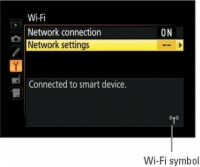 5

If the stars are in alignment and the devices connect, you see the confirmation screen.

It may take a few moments for the devices to shake hands. While the connection search is in progress, the Wi-Fi symbol blinks. The same icon appears in the Information display and Live View display while Wi-Fi is enabled.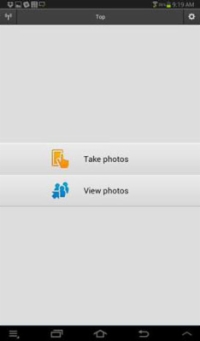 6

Launch the Nikon Wireless Mobile Utility app on your device.

The initial app screen offers two main options: Take Photos and View Photos. Somewhere on the screen, you should also see an icon that lets you access other app settings; usually, the icon looks like a little wheel.

To sever the connection and turn off Wi-Fi, set the Wi-Fi option on the Setup menu to Off.