How to Make Tassels for Your Curtains
How to Make Tassels for Your Curtains
Larger tassels look great hanging at the tops of your window treatments, and they're also nice to add to your tiebacks. You can buy tassels in many colors and sizes at your fabric store, but you may also want to consider making your own. If you want to make your own, start by choosing your tassel string, which needs to be a thicker thread like embroidery thread or any yarn. (Don't use sewing thread because it's too thin.) You can use different yarns or threads for different looks. One spool of thread or skein of yarn is plenty to make one tassel, and you may even be able to make two, depending on the size of the tassel you need.
To create your tassels, just follow these steps:
1

Cut a piece of cardboard the length that you want to make your tassels.

Make it at least 2 inches wide. This example uses a 6-inch long piece.
2

Wrap your yarn or thread around the longer side of the cardboard about a hundred times.

You're wrapping the thread into a 6-inch-long loop.
3

Cut a piece of yarn or thread about 10 inches long and slip it through the loop formed by the wrapped yarn/thread at the top of your cardboard and then tie it in a tight knot.

You can adjust your tassel's size by shortening or lengthening the cardboard. The larger you go, the thicker the string or yarn you'll want to try. Experiment with thread or yarn that you already have at home.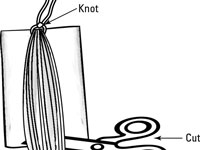 4

Cut the bottom of the tassel evenly along the bottom of the cardboard.

You can use tassels in so many ways: Add a tassel to the curtain at a top corner by threading the loop through your rod, or you can attach it to a curtain ring. You can add it to the middle of your curtain to highlight your tieback by threading the tieback through the tassel loop, and then situating the tassel where you like.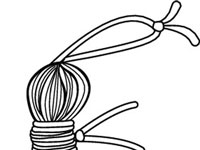 5

Cut a piece of yarn/thread that measures 3 feet (36 inches) long to wrap tightly around the neck of the tassel as many times as you can.

Leave enough yarn/thread on the ends so you can tie them in another knot.

Hide the leftover ends of your yarn/thread in the fringe of the tassel and make a loop at the top so you can hang your tassel.
6

Trim the bottom of the tassel so that the strands are even.

You're done!