Windows 7
Windows 7 introduced a ton of new features to the popular Microsoft operating system. If you need a hand unpacking all those enhancements, from Easy Transfer to the Scenic Ribbon, have a peek at our useful articles here.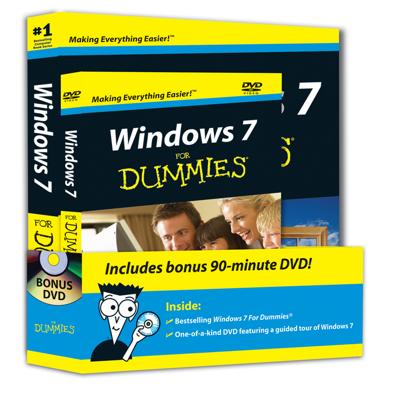 Windows 7
Windows 7 For Dummies, Book + DVD Bundle
A terrific value-a full-size book plus video demonstrations of key Windows 7 tasks Windows 7 is Microsoft's much-anticipated new release of the operating system that powers nearly 90% of the world's computers. This two-for-one package provides the step-by-step guidance that will get you up and running with all the exciting new features. This bundle includes the complete Windows 7 For Dummies book plus a DVD with two hours of video training. Featuring the expert advice you get in the book, the DVD shows you how to accomplish various Windows tasks and displays the screens you'll see as you proceed. A two-for-one value - the full-size Windows 7 For Dummies book plus two hours of video training on DVD Windows 7 has new features, an interface with more graphical elements, better interactivitiy with other devices, and faster speed Whether you're new to computers or just to Windows 7, this handy package provides a simple, easy-to-use guide plus video illustration to help you accomplish basic tasks in Windows Covers the things most books assume you already know, as well as how to work with files and programs, get things done online, and customize Windows 7 Shows you how to use movie, music, and photo management features, how to upgrade your system, and how to fix common problems you'll encounter DVD shows you what you'll see on the screen as you master each step This great book-and-DVD package will have you comfortably using Windows 7 faster than you can say 1-2-3!
Explore Book
Buy On Amazon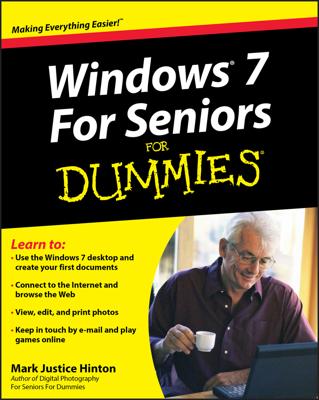 Windows 7
Windows 7 For Seniors For Dummies
This easy-to-understand guide helps seniors get started with Windows 7! Many seniors use a home computer to stay connected to family and friends. This fun and friendly guide shows how to use Windows 7, the most popular operating system pre-loaded onto personal computers and laptops, to write e-mails, connect with family via Windows Live Messenger, download pictures with Photo Gallery, and listen to music using Windows Media Player. Windows 7 For Seniors For Dummies uses a large font for the text that makes the book easier to read and it features magnified screen shots to help make the subject matter less intimidating. For Dummies author Mark Justice Hinton walks you through the basics of Windows 7, shows you how to customize the desktop so that it accommodates your needs, and explains how to use the webcam and instant messenger to keep in contact with family and friends. Plus, you'll get critical insight for protecting your personal information. Shows seniors how to stay connected to family and friends using the features of Windows 7 Explains how to use the Internet, send and receive e-mail, upload and download photos, view video, listen to music, play games, use webcam and instant messenger, and more Discusses the important topic of keeping data and personal information safe and secure Uses a larger font for text and includes more than 150 enlarged screen shots For seniors interested in getting started using the exciting features of Windows 7, Windows 7 For Seniors For Dummies is the ideal beginner guide!
Explore Book
Buy On Amazon