Windows 7 can easily and quickly be customized to suit your needs. For many users, particularly those upgrading from Windows XP, one of the things you'll want to do is add back some of the desktop icons that are "missing" in Windows 7. In fact, one of the first things that most people notice when running Windows 7 is that the initial desktop is nearly empty.
For Windows 7, the main desktop consists of just the taskbar that normally appears along the bottom of the screen, a background image (or color) that fills the rest of the screen, any gadgets you display on the screen, and the Recycle bin.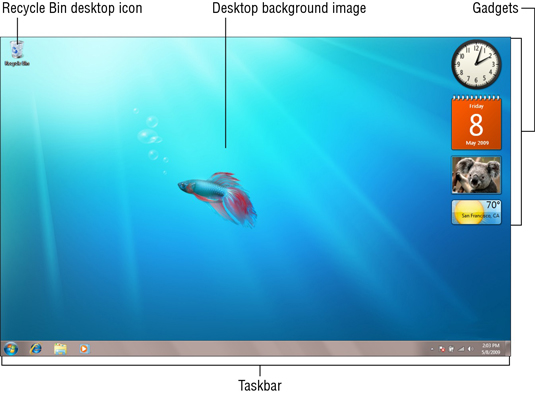 The lack of traditional desktop icons might be disconcerting for many users upgrading from previous versions of Windows.
Although you can still access all the same information through the Start menu, if you'd like to add any of the traditional desktop icons back to your desktop, follow these steps:
Right-click on the desktop background and choose Personalize from the shortcut menu that appears.

The Personalization window appears.

Click the Change Desktop Icons link in the Navigation pane.

This opens the Desktop Icon Settings dialog box.

Click the check boxes for any desktop icons you want to appear on the Windows 7 desktop.

In addition to the Recycle Bin icon, you can add the following icons to your Windows 7 desktop:

Computer: Provides one-click access to the Computer window, which shows all the drives and components connected to your computer (including drives that you've mapped onto a drive letter).

User's Files: To open your My Documents window, which is the primary repository for the document files on your computer.

Network: To open the Network window, which shows all the computers on your local area network.

Control Panel: To open the Control Panel, which enables you to customize all sorts of computer settings.

Click OK to close the Desktop Icons Settings dialog box and then click the Close button in the upper-right corner of the Personalization window.

Access these windows either by double-clicking the icon or by right-clicking it and then choosing Open from its shortcut menu.
If you notice that all the icons on your desktop have suddenly disappeared, leaving it completely empty, Windows 7 probably hid them in a misguided attempt to be helpful. To bring them back, right-click your empty desktop, choose View from the pop-up menu, and make sure Show Desktop Icons has a check mark so everything stays visible.
About This Article
This article can be found in the category: