How to Make Swag Window Coverings
How to Make Swag Window Coverings
Swags are easy to make and have a casual, airy look. After you've measured to determine how much fabric you need and picked out the perfect fabric for your swags, you are ready to begin sewing. Follow these easy steps to get great results when making your swag: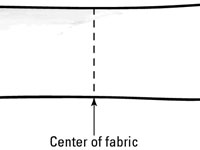 1

Find the center of the fabric, measured perpendicular to the selvage edge, and mark it with straight pins in a straight line.

The selvage is the finished-looking edge of the fabric, where the fabric comes off the loom; you can find the selvage easily because it's always parallel to the lengthwise grain.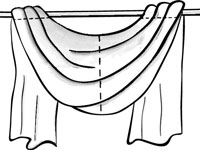 2

Toss the ends of your swag fabric over the rod or bar, so that each side has an equal amount of fabric.

Your pinned line needs to be in the exact center of the rod.
3

After you have an equal amount of fabric on either side, make folds where the fabric touches the rod.

The folds must mirror each other on each side, and the line of pins used for marking the center need to be in a vertical line.
4

Using your wrist pincushion and straight pins, pin your folds across the rod, being very careful not to pin it to the sheers or other drapery underneath.

Use plenty of pins and work methodically, pinning the folds to each other to keep the folds in place. You can also add pins where no one can see them, working from the fabric's underside, which can stay in place after sewing. (Be mindful of the pins if you're sewing with a machine.)
5

While still up on the ladder and after completing all your pinning, take your tailor's chalk and draw a straight line on the fabric parallel with the rod.

Doing so gives you a guide for putting the fabric back up on the rod after sewing.
6

Remove your fabric from the rod and stitch across the folds in the area that will fall behind the rod.

Remove your pins as you sew.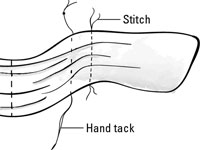 7

Hand tack the folds in the front so that they stay in place.

To hand tack your folds, take a needle and a matching-color thread and carefully stitch the folds in place by hand.
8

Slide the rod through the stitched area.

Use your chalked line to center and arrange the swag fabric to your liking.