How to Make Scarf Swags for Your Windows
How to Make Scarf Swags for Your Windows
Scarf swags are a wonderful way to dress up a room by adding romance and a bit of softness to already existing draperies, such as sheers. They loop and drape over a decorative rod, jazzing up some plain mini-blinds and providing a touch of elegance to your windows.
The length details of this project are a matter of taste: Some people like long scarves that create a puddle on the floor, while other people prefer a shorter look, perhaps right to the windowsill.
Follow these steps to determine how much fabric you need and to make you swags:
1

Measure the area of the swag that will go directly over the window top.

Start on one end of your rod and measure to the lowest part of the swag, going up and over the rod and back down again until you reach the opposite end of the rod.
2

Determine the amount of fabric you want to hang down on either side of your window.

To do this step, measure from the top corner of your rod to wherever you want your swag to descend.
3

Add the two amounts of fabric for your total measure.

For a standard 30 x 60-inch window, use a swag panel measuring about 180 x 22 inches, hemmed all the way around. The best way to get a piece of fabric with this measurement is to purchase 2-1/2 yards of fabric, cut it in half lengthwise, and then sew the two pieces together end to end. Doing so allows for enough yardage for the loop-around draping effect you want, as well as the two parts of the treatment that wrap and hang down the sides of the window.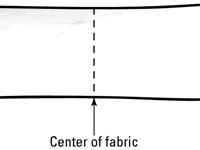 4

Find the center of your fabric, measured perpendicular to the selvage edge, and with pins, make a vertical line down the center.

Several kinds of hardware are made especially for holding swag treatments in place. But you really don't need to spend a lot of money on these specialty items. To save some dinero, you can use simple knots and a bit of ribbon — and they look just as nice.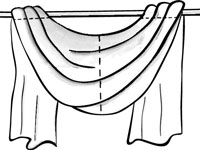 5

Hang the ends of your fabric over each end of the rod and pin the swirls and folds you like into place.

Use several pins to keep it secure because the weight of the fabric can undo your work! Don't forget to take the pins out after you have the fabric the way you like it.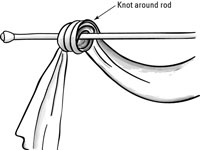 6

Attach your draped scarf swag to the rod.

Tying a knot around the bar is the easiest way. Simply wrap your flowing end around the bar and pull it through the loop. Adjust the fabric to your liking, making sure not to tug too hard on the part you've just draped.