How to Make a Shelf Valance for Your Windows
How to Make a Shelf Valance for Your Windows
Although lace is an ideal fabric for this valance project, a light, checked gingham is also a good choice. If you decide to use a nonlace fabric that needs a hem for your curtains, add another inch to each measurement for both the length and the width, and make your hem with the fold-and-fold method. It's just pressing the fabric over so that it tucks under a 1/2-inch and then sewing a straight line to create a hem.
The key to this project is proper measuring:
1

Measure the width of the area you want to cover and multiply by 2.

For example, if the area you're working with is 30 inches wide, cut a piece of lace that measures 60 inches wide. (Doubling the width of the window allows the fabric to create natural gathers at the top when the rod is inserted and hung.)
2

Measure the height of the area and add 4 inches.

For example, if the area height is 18 inches, cut your piece of lace to measure 22 inches long. Because the fabric is two times the width, you'll create natural gathers at the top of the lace when the rod is inserted.
4

With a medium-hot iron, press the lace flat.

Be very careful not to burn or melt your synthetic lace; it's prone to dissolve under high heat.
5

Stitch across at the 3-inch point to create one large sleeve.

This sewing can be done by machine or by hand.
6

From the fold at the top of your fabric, measure down an inch and draw a straight line across with your chalk.

Use a straight-edge to keep it straight.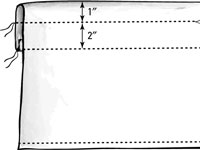 7

Sew across the line with a sewing machine or by hand.

This will create the gathered 1-inch ruffle above the 2-inch rod sleeve below it.
8

Insert your rod into the rod sleeve.

Gather the fabric to create a ruffled effect, and hang your valance.