How to Make a Pizza Pie
Who needs pizza delivery when you can make your own pizza pie at home? Making a pizza from scratch is a simple process, and you can create your pizza just the way you like it by adding whatever toppings you want:
1

In a large mixing bowl, combine a package of active dry yeast and 1 1/2 cups warm water.

Wait two to three minutes for the yeast to rise.
2

Mix in 1/2 cup flour and 1 teaspoon sugar.

Be sure to mix well.
3

Add 2 tablespoons olive oil, 2 teaspoons salt, and 3 1/4 cups flour, and work the ingredients together.

Use your hands or a large wooden spoon.
4

Transfer the dough to a smooth flour-dusted surface and knead it until the dough is smooth, about 5 minutes.

If the dough becomes sticky when kneading, gradually add up to another 1/4 cup flour.
5

Place in a large bowl that's been lightly greased with olive oil, cover the bowl, and allow the dough to double in size.

This should take about an hour.
6

Divide the dough into two pieces and roll them into balls.

Rest the dough for 15 minutes.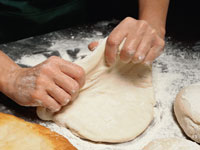 7

Place a ball of dough on a floured counter or work surface, and flatten it with your hands.

Keep stretching and pressing down on the dough until it reaches the desired size.
8

Slide your hands underneath the dough and lift it onto an oiled pizza pan.

Depending on the size and shape of your dough, you can also use a baking sheet.
9

Place your toppings on the dough.

Toppings on traditional Italian pies are generally light. Italians are aghast at American pizzas with tons of meat and cheese.