Coring and Seeding a Bell Pepper
Coring and Seeding a Bell Pepper
Getting peppers ready for cooking involves coring and seeding them. You can both core and seed a bell pepper in the same procedure.
1

Cut around the stem, then twist and pull it out.

Most of the seeds should come out with the stem.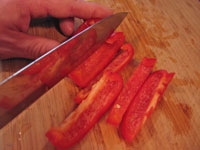 3

Cut the pepper halves into lengthwise strips.

You can add these strips to a salad or stir-fry, for example.