Jewelry and Beading Designs For Dummies
Jewelry and Beading Designs For Dummies
When you begin designing beading and jewelry projects, make sure you've stocked up on your basic supplies. The chart below will give you an idea of how many beads you need to buy for specific lengths of string. After you've strung your beads, an easy two-step method for bead crimping will help you neatly and securely finish your jewelry. To add your own unique flair to jewelry and beading projects, try a few fun wire-wrapping techniques.
Jewelry and Beading Stringing Materials
With all of the stringing choices out there for your jewelry and beading projects, it can get a little crazy sometimes. It's great to have an assortment of stringing materials, but the following list shows the things you should always keep on hand:
Nylon size 4 (black and white)

Nylon size 2 (black and white)

0.014-inch or 0.015-inch and 0.019-inch clear beading wire

Silamide size A in off-white
Jewelry and Beading Must-Haves
It can be difficult to know what you really need when it comes to jewelry and beading design, especially if you're standing in front of racks of supplies. Don't fret, use this list for items you should have handy so you can create jewelry at a moment's notice:
Assorted clasps (toggle clasps, spring ring clasp)

2-x2mm tube-shaped sterling crimp beads

Sterling and gold-filled bead tips

Ear wires (leverback and shepherd hook styles)

Head pins

Assorted sizes of jump rings (5mm to 7mm in gold-filled and sterling)
Jewelry and Beading Semi-Precious Wire to Stock
If you need some help deciding which wire you need to begin your jewelry and beading projects, use this list of wires (complete with gauges and hardness) as a good start:
Gold-filled 22-, 21-, and 20-gauge round dead-soft wire

Sterling silver 22-, 21-, and 20-gauge round dead-soft wire

Gold-filled 24-, 20-, and 16-gauge half-hard wire

Sterling silver 24-, 20-, and 16-gauge half-hard wire
Estimating How Many Beads You Need
When you're designing your jewelry, keep this handy chart close by — it lists individual bead size (in millimeters), strand lengths (in inches), and the approximate number of beads that will fit on the strand. So if you have a specific length for a necklace or bracelet, use this table to help you figure out about how many beads you need: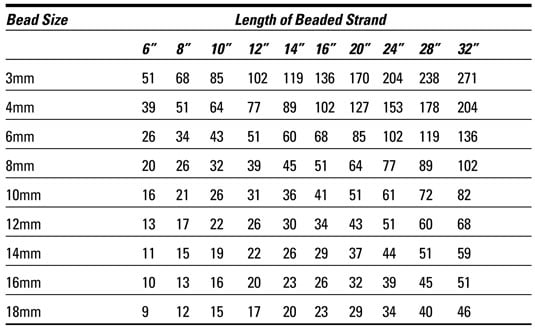 How to Attach a Crimp Bead
Crimping is simply squeezing or flattening specially designed beads and tubes to secure jewelry elements (like clasps or beads). Usually, you use crimping to finish a jewelry piece in a clean, professional manner. A quick and easy way to finish jewelry is to use a pair of crimping pliers and the two-phase crimp method:
Position your strung crimp tube or bead in the lower jaw of the crimping pliers. Squeeze the jaws together to reveal a bent crimp that resembles the lefthand image.

Move the bent crimp up to the top jaw. Squeeze the jaws together to further flatten the crimp, leaving a professional look, like the one in the righthand image.
Wire-Wrapping Techniques for Jewelry and Beading Projects
Wire wrapping is a great way to put a unique touch on your jewelry and beading creations. You can use wire to connect beads, wrap beads, make your own chain or clasps, and so much more. Start by trying a few of these wire-wrapping techniques: