How to Use Bookmarks and Highlights in iBooks
How to Use Bookmarks and Highlights in iBooks
Bookmarks and highlights in your e-books are like favorites you save in your web browser: They enable you to revisit a favorite page or refresh your memory about a character or plot point. Note that iBooks can retain these bookmarks and highlights across iDevices such as Macs with the Mavericks OS, iPad, and iPhone.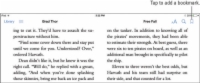 1

With a book open to a page you want to bookmark, tap the Bookmark button in the upper-right corner, as shown.

A colored bookmark is placed on the right-hand page.
3

Tap the Highlight button.

A colored highlight is placed on the word.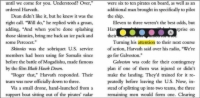 4

To change the color of the highlight on a word, remove the highlight, or add a note, tap the highlighted word, and then tap the Highlight button.

The toolbar shown in Figure 7-17 appears. Note that a shortcut for removing a bookmark is to simply tap the Bookmark button in the top-right corner of the page.
5

Tap one of these items:

Colors: Tap the color button and then tap any colored circle to change the highlight color.

Remove Highlight: Tapping the white circle with a red line through it removes the highlight.

Note: Tap the Note icon to add a note to the item.

Share: Tap this button to choose from sharing the highlighted text via Mail, Twitter, or Facebook.

More Toolbar Options: You can tap this button at the right side of the toolbar to access Copy, Define, and Search tools.
6

Tap outside the highlighted word to close the toolbar.

The toolbar will close.
7

Tap the Table of Contents button on a book page.

This will take you to a list of bookmarks and highlights.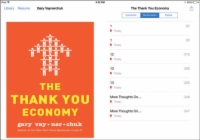 8

In the Table of Contents, tap the Bookmarks or Notes tab.

As shown in the figure, all contents, bookmarks, or notes (which includes highlights) display on their respective tabs.
9

Tap a bookmark or highlight in one of these lists to go to that location in the book.

iPad automatically bookmarks the page where you left off reading in a book, so you don't have to do it manually.