How to Set Up a POP3 Email Account on Your iPad
How to Set Up a POP3 Email Account on Your iPad
If you have a POP3 email account, you can set it up on your iPad. You can also set up most email accounts, such as those available through EarthLink or a cable provider, by obtaining the host name from the provider. To set up an existing account with a provider other than Gmail, Yahoo!, Outlook.com, or AOL, you have to enter the account settings yourself.
Follow these steps to set up an IMAP or POP3 account:
1

Tap Settings on the Home screen.

The Settings screen will open.
2

In Settings, tap Mail, Contacts, Calendars and then tap Add Account.

Your Account Settings will appear.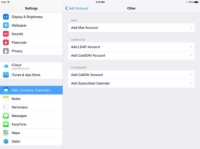 4

In the screen that appears, tap Add Mail Account.

You will choose an email account in these settings.
5

In the next form, enter your name and the account address, password, and description, and tap Next.

The iPad takes a moment to verify your account and then returns you to the Mail, Contacts, Calendars pane with your new account displayed.

Your iPad will probably add the outgoing mail server information for you, but if it doesn't, tap SMTP and enter this information.
6

Tap Done.

You can now access the account through the Mail app.

You can have more than one active account set to On for receiving email; tap the account name in Settings. When you do, you can then open different accounts to view their inboxes from within the Mail app. If you don't want a particular account's emails to be downloaded, you can turn off any active email account by opening it in Settings and tapping the On/Off switch.

If you turn on Calendars in the Mail account settings, any information you've put into your calendar in that email account is brought over into the Calendar app on your iPad and reflected in the Notification Center.