How to Download an App for Your iPad
How to Download an App for Your iPad
To download an app for your iPad, start by finding cool iPad apps using iTunes on your computer. Then, you will need to synch your iPad so the application will be available on it.
To begin, follow these steps:
Launch iTunes.

Click the iTunes Store link in the sidebar on the left.

Click the App Store link.

The iTunes App Store appears, as shown in this figure.

(Optional) If you want to look only for apps designed to run at the full resolution of your iPad, click the iPad tab at the top of the window.

Now you're ready to browse, search, and download apps.
This part is simple. When you find an application you want to try while browsing the App Store on your computer, just click the app's Free App or Buy App button. When you do so, you have to log on to your iTunes Store account, even if the app is free.
After you log on, the app begins downloading. When it's finished, it appears in the Apps section of your iTunes library, as shown in this figure.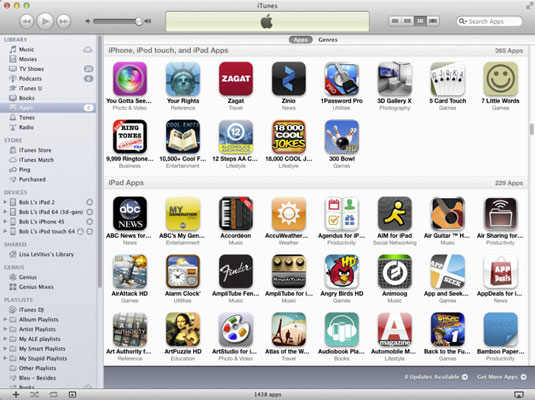 Downloading an app to your iTunes library is only the first half of getting it onto your iPad. After you download an app, you can sync your iPad so the application will be available on it.
You can also get the app via the App Store's Purchased tab or by enabling automatic downloads on the Settings app's Store pane or the iTunes Preferences Store tab on your computer.
If you want apps to download to your iPad automatically regardless of which device you used to purchase the app, you can set that up:
On a computer: Connect your iPad via either USB cable or Wi-Fi. Launch iTunes and click your iPad's name in the sidebar on the left. Click the Apps tab and enable the Automatically Sync New Apps check box.

On your iPad: Tap Settings→Store. Then turn on the switch for Apps in the Automatic Downloads section.
You can enable Automatic Downloads for Music and Books on your iPad (but not in iTunes).
By the way, if your iTunes App library doesn't look like the example (with big icons in a grid pattern), click the third icon from the left in the quartet of icons to the left of the Search field, near the top of the iTunes window.
Just so you know, the leftmost icon displays your apps in a list; the next one shows them in a list with icons; the third one displays them as a grid; and the rightmost icon displays your apps in the Cover Flow view.