Galaxy S 4: Manage Office Documents
Galaxy S 4: Manage Office Documents
Regardless of how you send an Office file to or from your Galaxy S 4, the creation and editing steps are the same. Although you don't have full access to all the editing tools you find for any of the applications, you can do basic editing with the simplified icons at the bottom of the screen.
Say that you are writing the great American novel on your PC, but then you want it on your phone to review it and maybe make some minor edits. The first thing you do is move the file to your Dropbox server from your PC. This is what it looks like on your desktop PC.
[img id:380141]
This should look familiar. Here are the steps to view and edit this document on your phone: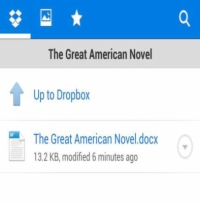 2

Tap the folder icon on this page with the desired file.

In this case, it is the folder that says The Great American Novel as shown in the figure.
4

Read and/or edit the file as desired.

Continue to the next step.
5

When you're done, tap the Word icon.

This brings up options, including Save.
6

Tap Save.

This saves any changes you have made back to the file stored on Dropbox.

This process works with any Microsoft Office file format. It works with cloud servers other than Dropbox too. It can work the same way with your VPN at the office. The tools are there for you to use.