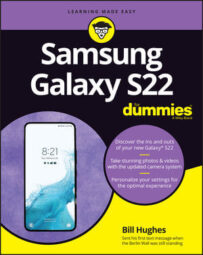 Samsung Galaxy S22 For Dummies
By: Bill Hughes Published: 05-23-2022
Samsung Galaxy S22 For Dummies is your roadmap to unlocking the full potential of your new Galaxy. This friendly guide walks you through the Galaxy S22's home screen, buttons, menus, and various functions, and shows you how to customize your phone with ringtones, wallpapers, lock screens, and widgets.
Articles From

Samsung Galaxy S22 For Dummies
Samsung Galaxy
Samsung Galaxy S22 For Dummies Cheat Sheet
Cheat Sheet / Updated 03-28-2022
Your Samsung Galaxy S22 smartphone allows you to do many of the same things as previous versions of the Galaxy. You can change the font size for texting conversations and take selfies. You can also access Galaxy applications while you're talking on the S22. Navigating your Samsung Galaxy S22 doesn't have to be difficult. This Cheat Sheet will help you remember some of the most popular functions.
View Cheat Sheet