Create Office Files on Your Galaxy S 4
Create Office Files on Your Galaxy S 4
You can obtain Polaris Office Mobile Viewer for your Samsung Galaxy S 4from the Play Store for free if it's not already installed on your phone. This Office app lets you create, read, and edit documents on your phone.
[img id:380124]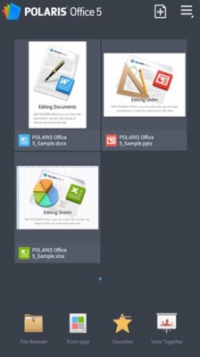 1

On your phone, open the Application list and tap the Polaris Office 5 icon.

You need to accept the End User License Agreement. After you do, it displays its Home screen shown.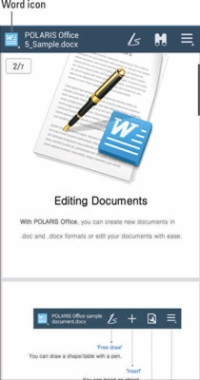 2

Tap the icon for the file type you wish to create, whether it is a Word document, an Excel Spreadsheet, or PowerPoint presentation.

The options are Editing Documents, Open a blank sheet in Word format (.doc); Editing Sheets, Open a blank spreadsheet in Excel spreadsheet format (.xls); Editing Slides, Open a blank presentation in PowerPoint format (.ppt).

This brings up a screen like that shown. This is a Word document that describes how to use the app. The details on editing are described in this document.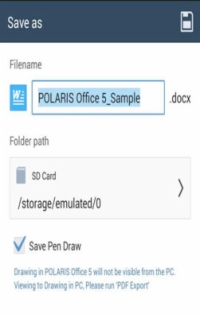 3

Tap the Word icon in the upper left corner to save the document.

This brings up the options, as shown.

In this case, your only option is to save this file in the memory in your phone or on the MicroSD card on your phone if one is installed.
4

To save a document, tap the diskette icon (upper right).

The diskette might indeed be a relic of PC technology, but it's still widely used as an icon to mean Save.

Your phone saves the document on your MicroSD card in the format you selected.

You follow the same basic process for files in the other formats. If you want to keep this file on your phone forever, you are set. However, read on if you want to do something more with it.