Using the iPhone 4S Visual Voicemail Feature
Using the iPhone 4S Visual Voicemail Feature
Hate waiting through voicemail after voicemail before getting to the message you really want to hear? Well, the iPhone 4S's clever visual voicemail presents a list of your voicemail messages in the order in which calls were received — as in the sample shown — but gives you the option to listen to them in the order you choose.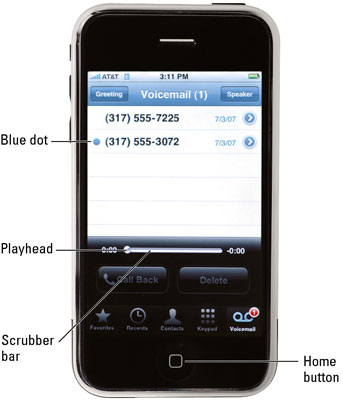 You can tell that you have voicemail in a few ways:
A red circular badge showing the number of pending messages awaiting your attention appears above the Phone icon on the Home screen or above the Voicemail icon from within the Phone app.

You may also see a message alert on the iPhone display that says something like New voicemail from Shandra or a notification in the Notification Center.
Whatever draws you in, tap that Voicemail icon to display the list of voicemails. You see the caller's phone number, assuming this info is known through Caller ID, and in some cases, the caller's name. Or you see the word Unknown. A blue dot next to a name or number signifies that you haven't heard the message yet.
The beauty of all this is that you can choose which message to listen to first, second, and whenever. To play back a voicemail, tap the name or number in question. Then tap the tiny play/pause button that shows up to the left. Tap once more to pause the message; tap again to resume. Tap the Speaker button if you want to hear the message through the iPhone's speakerphone.
Tap the blue arrow next to a caller's name or number to bring up any contact info on the person or to add the caller to your Contacts.
Returning a call is as simple as tapping the green Call Back button. If the caller's number is unknown, the Call Back button appears dimmed. And you can delete a voicemail by pressing Delete.
If you have no phone service, you'll see a message that says Visual Voicemail is currently unavailable.