Seniors Use Favorites to Make Calls from iPhone 4S
Seniors Use Favorites to Make Calls from iPhone 4S
You can save contacts to Favorites in the iPhone 4S Phone app so you can quickly make calls to your A-list folks, business contacts, friends, family members, and so on.
1

Tap Phone on any Home screen.

The Favorites button appears at the bottom of the screen.
2

Tap the Favorites button.

The Favorites screen displays.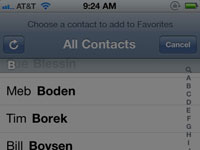 4

Locate a contact you want to make a Favorite, and tap it. In the contact record, tap the phone number field.

A menu appears.
5

Tap Voice Call or FaceTime depending on which type of call you prefer to make to this person most of the time.

The Favorites list reappears with your new favorite contact on it.
6

To place a call to a Favorite, display the Phone app, tap Favorites, and then tap a person on the list to place a call.

If you decide to place a FaceTime call to a Favorite you've created using the Voice Call setting, just tap the arrow to the right of the favorite's listing and tap the FaceTime button in the contact record that appears. You can also create two contacts for the same person, one with a cellphone and one with a land phone, for instance, and place one or both in Favorites.