Put Notifications to Work on Your iPhone 5
Put Notifications to Work on Your iPhone 5
The Notification Center is your iPhone 5's information hub, alerting you about everything from Calendar events and stock prices to missed voice calls. You can always access the Notification Center from your Home screen. You can see the Notification Center in some apps, too. You may see the Notification Center tab (a small rectangle with three lines) at the top of the screen within an app.
You can easily decide how alerts appear from each app that uses notifications. To set up notifications for an app, follow these steps:
1

From the Home screen, tap the Settings icon.

To completely disable all call and alert notifications, tap the Do Not Disturb switch.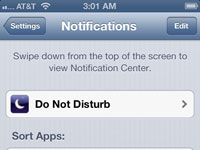 2

Tap Notifications.

You'll see the controls shown.

You can specify an automated schedule for Do Not Disturb mode, or allow calls and alerts from your Favorites list or a specific Group you've created within Contacts.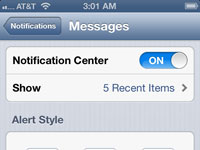 3

Tap the app whose notifications you want to set up.

Different apps provide different options, so you may not see these controls with other apps. The figure shows the notification options for the Messages app.
4

Tap the Notification Center switch to turn on or off this app's alerts in the Notification Center.

If you disable the display for this app, alerts will still appear as you specify in Step 6 of this procedure, but they aren't displayed within the Notification Center.
5

Tap Show and set the number of alerts shown in the Notification Center.

You can display the last one, five, or ten items from this app.
6

Tap an alert style.

None disables alerts altogether.

Banner shows a temporary banner at the top of the screen.

Alerts shows a dialog box alert that you have to tap.
7

Tap the Badge App Icon switch.

Here is where you decide whether the number of alerts will appear on the app's icon.
8

Tap the View in Lock Screen switch.

Here is where you decide whether you see the app's alerts while your iPhone is locked.
9

Tap the Notifications button at the top left to return to the Notifications settings.

Press the Home button to return to the Home screen.