How to Type a Web Address in Your iPhone 5
How to Type a Web Address in Your iPhone 5
You can get to a web page on your iPhone 5 in lots of different ways, but the most common way of visiting a site for the first time is by typing a website's address: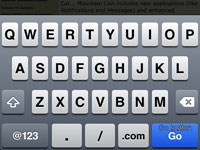 2

Tap the Address box.

The keyboard comes up.

There may already be an address in the Address box. To quickly clear the field all at once, tap the X icon that appears at the right of the Address box.
3

Type the address.

As you type, Safari lists sites you've already visited with similar names. Tap any of the addresses to immediately jump to that site.
4

Tap the Go button.

To view the previous page, tap the Back (left-facing arrow) button. If you've tapped the Back button at least once, the Forward (right-facing arrow) button appears, allowing you to return to the original page.

You can view most any web page widescreen by turning your iPhone horizontally.