How to Shoot and Edit Video on Your iPhone
How to Shoot and Edit Video on Your iPhone
The iPhone 3GS was the first iPhone to let you shoot video, and then the iPhone 4 joined the video party. When you shoot video on a 3GS or 4 iPhone, you can capture it in portrait or landscape mode:
1

Tap the Camera icon on the Home screen.

Your iPhone magically becomes a camera, with the screen as viewfinder.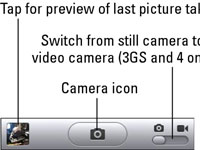 2

Drag the little onscreen button at the bottom-right corner of the display from the camera position to the video camera position.

This switch lets the iPhone know whether you want to take still pictures or video.
3

(Optional) Tap the LED Flash button.

Tapping this button shines a light while you record video.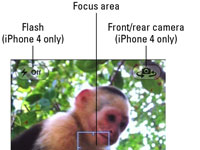 4

Tap the red record button at the bottom center to begin shooting a scene.

The button blinks and a counter timing the length of your video appears.
5

When you're finished, tap the red button again to stop recording.

Your video is automatically saved to the camera roll, alongside any other saved videos and still pictures. Now, you can perform simple edits right on your iPhone 3GS and iPhone 4.
7

Drag the start and end points along the timeline to select only the portion of the video that you want to keep.

Hold your finger over the section to expand the timeline so that you can more easily apply your edits. You can tap the play button to preview the edit.
9

Tap Trim Original to permanently remove scenes from the original clip.

Alternatively, you can tap Save as New Clip to create a newly trimmed video clip; the original video is unaffected, and the new clip is stored in the Camera Roll. Or tap Cancel to start over.