How to Open Web Pages from Safari on Your iPhone
How to Open Web Pages from Safari on Your iPhone
The iPhone has two ways to determine websites to suggest when you tap certain letters. One method is the websites you already bookmarked from the Safari or Internet Explorer browser on your computer. The second method iPhone uses when suggesting websites when you tap a particular letter is to suggest sites from the History list — those cyberdestinations where you recently hung your hat.
You might as well open a web page now. It's a full HTML page, to borrow from techie lingo. Do the following:
1

Tap the Safari icon at the bottom of the Home screen.

This icon is another member of the Fantastic Four (along with Phone, Mail, and Music).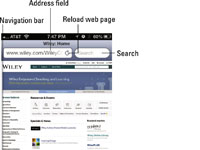 2

Tap the address field.

If you can't see the address field, tap the status bar, or scroll to the top of the screen.
3

Begin typing the web address on the virtual keyboard that slides up from the bottom of the screen.

The web address is also called the URL (Uniform Resource Locator, for trivia buffs).
4

To accept one of the bookmarked (or other) sites that show up on the list, merely tap the name.

Safari automatically fills in the URL in the address field and takes you where you want to go.
5

Keep tapping the proper keyboard characters until you enter the complete web address for the site you have in mind, and then tap Go in the lower-right corner of the keyboard.

It's not necessary to type www at the beginning of a URL.