How to View Your Calendar on iPhone
How to View Your Calendar on iPhone
The Calendar app on your iPhone is a simple, elegant, electronic daybook that helps you keep on top of all your activities and appointments. Calendar offers several ways to view your schedule.
Start by tapping the Calendar app icon on the Home screen to open it.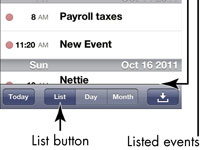 1

Tap the List button at the bottom of the screen to display List view (if it's not already displayed).

This view displays your daily appointments for every day in a list with times listed on the left.
2

Tap an event in the list to get more event details, or tap the + symbol to add an event.

If you'd like to display events only from a particular calendar, such as the Birthday or US Holidays calendars, tap the Calendars button in the top-left corner of the List view and select a calendar to base the list on.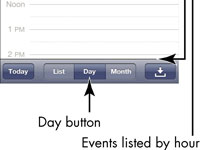 3

Tap the Day button to view all events for the current day.

In this view, appointments appear like a page in a daily appointment book. (Note that in landscape orientation, you see the day as a column in a set of columns for the days of the week.)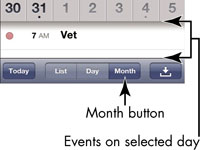 4

Tap the Month button to get an overview of your busy month.

In this view, you see the calendar for the month with any events for the selected day displayed in a list at the bottom of the view. Again, in landscape orientation you will instead see the selected day of the month in a series of daily columns.
5

To move from one month to the next in Month view, tap the Next or Previous buttons to the right and left of the month name at the top of the calendar.

To jump back to today, tap the Today button in the bottom-left corner of Calendar.

To view any invitation that you accepted, which placed an event on your calendar, tap the Invitations button (it looks like a little inbox with an arrow pointing to it in the lower-right corner), and a list of invitations is displayed.