For Seniors: The iTunes App on Your iPhone 4S
For Seniors: The iTunes App on Your iPhone 4S
The iTunes app that comes preinstalled in your iPhone 4S lets you easily shop for music, movies, TV shows, audiobooks, podcasts, and even online classes at Apple's iTunes Store. Visiting the iTunes Store from your iPhone is easy with the built-in iTunes app: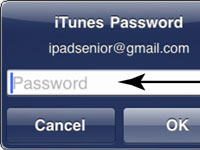 1

Tap the iTunes icon on the Home screen.

If you're not already signed in to iTunes, a dialog appears, asking for your iTunes password.
2

Enter your password and tap OK.

Tap the Music button (if it isn't already selected) in the row of buttons at the bottom of the screen.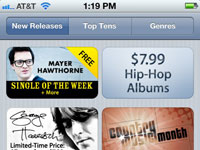 3

Flick your finger up to scroll down the featured selections.

The navigation techniques in these steps work essentially the same in any of the content categories (the buttons at the bottom of the screen), which include Music, Videos, TV Shows, Podcasts, Audiobooks, and iTunes U (the last three are accessed through the More button at the bottom of the iTunes screen). Just tap one to explore it.
4

Tap the Top Tens tab at the top of the screen.

This step displays best-selling songs and albums in the iTunes Store.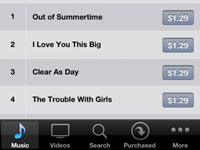 5

Tap any other listed item to see more detail about it.

You also will hear a brief preview.

If you want to use the Genius playlist feature, which recommends additional purchases based on the contents of your library in the iTunes app on your iPhone, tap the More button tab at the bottom of the screen and tap Genius. If you've made enough purchases in iTunes, song and album recommendations appear based on them as well as the content in your iTunes Match library, if you have one.