For Seniors: Set Notification Types on iPhone 4S
For Seniors: Set Notification Types on iPhone 4S
Notification Center on your iPhone 4S is on by default, but you don't have to include every type of notification there if you don't want to; for example you might never want to be notified of incoming messages but always want to have reminders listed here — it's up to you. There are some settings you can make to control what types of notifications are included in it.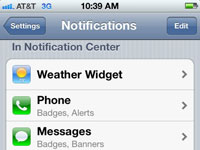 1

Tap Settings, and then tap Notifications.

In the settings that appear, note that there is a list of items included in Notification Center and a list of items not included. For example, Messages and Reminders may be included, but alerts in game apps may not.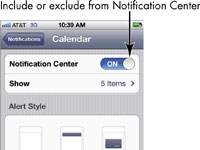 2

Tap any item.

In the settings that appear, tap the On/Off button to have that item included or excluded from Notification Center.
3

Tap an Alert Style to have no alert, a banner across the top of the screen, or a boxed alert appear.

If you choose Banner, it will appear and then disappear automatically. If you choose Alert, you have to take an action to dismiss the alert when it appears.
4

To turn this the Badge App Icon feature off, tap the On/Off button for Badge App Icon.

Badge App Icon is a feature that places a red circle and number on icons on your Home screens representing alerts associated with those apps.
5

If you want to be able to view alerts when the Lock Screen is displayed, turn on the View in Lock Screen setting.

When you've finished making settings for an individual app, tap the Settings button to go back to the Notifications settings.