For Seniors: Run a Slideshow on Your iPhone 4S
For Seniors: Run a Slideshow on Your iPhone 4S
On you iPhone 4S, you can run a slideshow of your images in the Photos app and even play music and choose transition effects for the show.
1

Tap the Photos app icon to open the application.

Display an individual photo.
2

Tap the photo so that an arrow appears near the bottom.

This is the Slideshow button.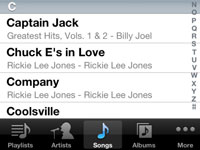 4

If you want to play music along with the slideshow, tap the On/Off button on the Play Music field.

To choose music to play along with the slideshow, tap Music and, in the list that appears, tap any selection from your Music library.
5

In the Slideshow Options dialog, tap Transitions.

Then tap the transition effect you want to use for your slideshow.
6

Tap the Start Slideshow button.

The slideshow begins.

To run a slideshow that includes only the photos contained in a particular album, tap the Albums tab, tap an album to open it, and then tap the Slideshow button to make settings and run a slideshow.