For Seniors: Read Periodicals on Your iPhone 4S through Newsstand
For Seniors: Read Periodicals on Your iPhone 4S through Newsstand
The Newsstand app for your iPhone 4S is a central collection point for apps that allow you to preview and buy content in each publication's store. Note that different stores offer different options for subscribing, buying issues, and organizing issues.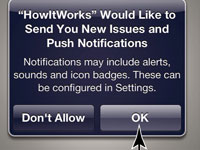 1

Tap a periodical app that you've added to Newsstand.

A message appears, asking if you'd like to be informed of new issues. Tap OK if you would.
2

Tap the Preview Issue button to take a look at a description of its content.

You also can tap the Buy button.
3

In the purchase confirmation dialog that appears, tap Buy.

The issue is charged to your iTunes account.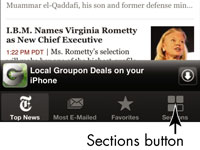 4

Tap the publication in Newsstand to view it.

You have to buy a periodical or download a free subscription preview to view it.