For Seniors: Play Music and Other Audio with Music App on iPhone 4S
For Seniors: Play Music and Other Audio with Music App on iPhone 4S
To play songs or other audio on your iPhone 4S, locate the song or audiobook you want to play in your Music libraries by using the Search feature.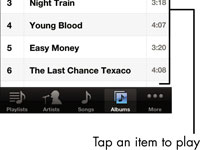 1

Tap the item you want to play.

Note that if you're displaying the Songs tab, you don't have to tap an album to open a song; you need only tap a song to play it. If you're using any other tab, you have to tap items such as albums (or multiple songs from one artist) to find the song you want to hear.

Your selected audio item begins to play.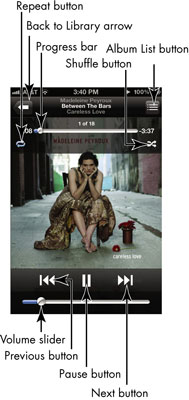 2

Use the Previous and Next buttons at the bottom of the screen to navigate the audio file that's playing.

The Previous button takes you back to the beginning of the item that's playing; the Next button takes you to the next item. Use the Volume slider on the bottom of the screen (or the Volume buttons on the side of your iPhone) to increase or decrease the volume.
3

Tap the Pause button to pause playback.

Tap the button again to resume playing.
4

Tap and drag the slider that indicates the current playback location on the Progress bar to the left or right to "scrub" to another location in the song.

If the slider isn't visible, tap the image of the album cover, and the Progress bar appears.

If you don't like what's playing, here's how to make another selection: Tap the Back to Library arrow in the top-left corner to return to Library view or tap the Album List button in the bottom-right corner to show other selections in the album that's playing.