How To Open and Create Notes on iPhone 4S
How To Open and Create Notes on iPhone 4S
Notes is the iPhone included app that you can use to do everything from jotting down notes at meetings to keeping to-do lists. It isn't a robust word processor (such as Apple Pages or Microsoft Word), but it's a great option for taking notes on the fly, jotting down shopping lists, or writing a few pages of your novel-in-progress.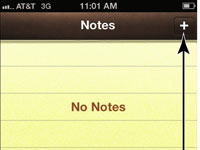 1

To get started with Notes, tap the Notes app icon on the Home screen.

If you've never used Notes, it opens with a new, blank note displayed. (If you have used Notes, it opens to the last note you were working on.)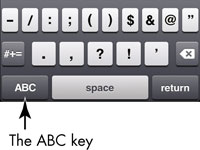 3

Tap keys on the keyboard to enter text.

If you want to enter numbers or symbols, tap the key labeled .?123 on the keyboard. The numerical keyboard appears. Whenever you want to return to the alphabetic keyboard, tap the key labeled ABC.
4

To capitalize a letter, tap the Shift key and then tap the letter.

You can enable the Enable Caps Lock feature in the General Keyboard Settings, or you can turn caps lock on by double-tapping the Shift key; tap the Shift key once to turn the feature off.
5

When you want to start a new paragraph or a new item in a list, tap the Return key.

To edit text, tap the text you want to edit and either use the Delete key to delete text to the left of the cursor or type new text.
6

With one note open, to create a new note, tap the Done button.

Tap the New Note button — the one with the plus sign (+) on it — in the top-right corner.
7

Enter and edit text.

When you have the numerical keyboard displayed, you can tap the key labeled #+= to access more symbols, such as the percentage sign or the euro symbol, or additional bracket styles.

No need to save a note — it's kept automatically until you delete it.