How to Make iPhone Settings Using iTunes
How to Make iPhone Settings Using iTunes
You can use iTunes to change the settings on your iPhone. Open your iTunes software. (On a Windows computer, choose Start→All Programs→iTunes; on a Mac, click the iTunes icon in the Dock or Launchpad.)
iTunes opens and, if you've connected it to your computer using the Dock Connector to USB Cable, your iPhone is listed in the Devices section of the Source List on the left.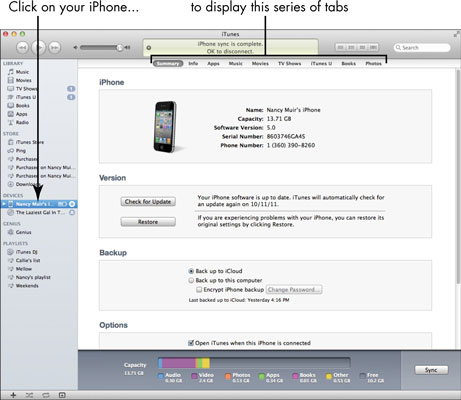 Click on your iPhone, and a series of tabs displays. The tabs offer information about your iPhone and settings to determine how to download music, movies, or podcasts, for example. (You can see the simple choices on the Music tab.)

The settings relate to the kind of content you want to download and whether you want to download it automatically (when you sync) or manually. Here is an overview of the settings that are available on each tab.
iPhone Settings in iTunes
Tab Name
What You Can Do with the Settings on the Tab
Summary
Perform updates to the iPhone software and set general syncing
options.
Info
Specify which information to sync: Contacts, Calendars, E-mail
accounts, Bookmarks, or Notes.
Apps
Sync with iPhone the apps you've downloaded to your
computer and manage the location of those apps and folders, as well
as associating data files with associated apps.
Music
Choose which music to download to your iPhone when you
sync.
Movies
Specify whether to automatically download movies and which
movies to sync.
TV Shows
Choose shows and episodes to sync automatically.
iTunes U
Choose free online courses to download.
Podcasts
Choose podcasts and episodes to sync automatically.
Books
Choose to sync all, or only selected, books and audiobooks to
your iPhone.
Photos
Choose the applications or folders from which you want to
download photos or albums.
You can make all settings for the types of content you plan to obtain on your computer.