How to Play Movies or TV Shows on Your iPhone 6 with Videos
How to Play Movies or TV Shows on Your iPhone 6 with Videos
When you first open the Videos app on your iPhone 6, you may see relatively blank screens with a note that you don't own any videos and a link to the iTunes Store. After you've purchased TV shows and movies or rented movies from the iTunes Store or other sources, you'll see tabs of the different kinds of content you own.
1

Tap the Videos app icon on the Home screen to open the application.

If your iPhone is on the same Wi-Fi network as your computer and both are running iTunes, with the iPhone and iTunes set to use the same Home Sharing account, you see the Shared List. With this setup, you can stream videos from iTunes on your computer to your iPhone.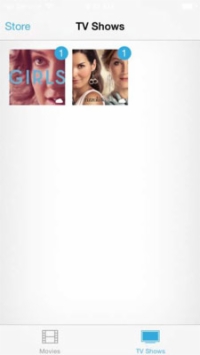 2

On this screen, tap the appropriate category at the bottom of the screen.

You will see TV, Podcasts, or Movies, depending on the content you've downloaded.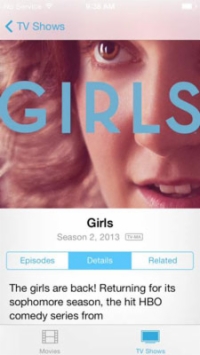 3

Tap the video you want to watch.

Information about the movie or TV show episodes appears. TV Shows include an Episodes, Details, and Related tab; Movies contain a Details, Chapters, and Related tab.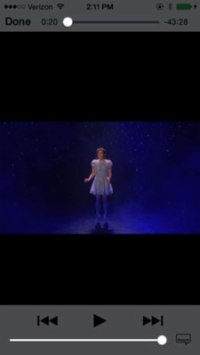 4

For TV Shows, tap the Episodes tab to display episodes that you can tap to play; for Movies, the Play button appears no matter which tab is selected. Tap the Play button and the movie or TV show begins playing.

If you see a small, cloud-shaped icon instead of a Play button, tap it and the content is downloaded from iCloud. Note that the progress of the playback is displayed on the Progress bar showing how many minutes you've viewed and how many remain. If you don't see the bar, tap the screen once to display it briefly, along with a set of playback tools at the bottom.
5

With the playback tools displayed, take any of these actions:

Tap the Pause button to pause playback.

Tap either Go to Previous Chapter or Go to Next Chapter to move to a different location in the video playback. Note that if a video has chapter support, another button appears here for displaying all chapters so that you can move more easily from one to another.

Tap the circular button on the Volume slider and drag the button left or right to decrease or increase the volume, respectively.
6

To stop the video and return to the information screen, tap the Done button to the left of the Progress bar.

Note that if you've watched a video and stopped it partway, it opens by default to the last location that you were viewing. To start a video from the beginning, tap and drag the circular button (called the playhead) on the Progress bar all the way to the left.

If your controls disappear during playback, just tap the screen and they'll reappear.

If you download the free iTunes U app, you can access educational video content that you can play back using the Videos app.