For Seniors: How to Designate Related People in iPhone 6 Contacts
For Seniors: How to Designate Related People in iPhone 6 Contacts
With iOS 8, you can quickly designate relationships in a contact record if those people are saved to Contacts. One great use for this feature is using Siri to simply say "Call Manager" to call someone who is designated in your contact information as your manager.
1

Tap a contact and then tap Edit.

The contact will appear.
2

Scroll down the record.

Tap Add Related Name.
4

Tap the Add Related Name, and the Father field appears.

Tap a field such as Mother or Father to change the label by tapping another relationship in the list that appears, if you wish.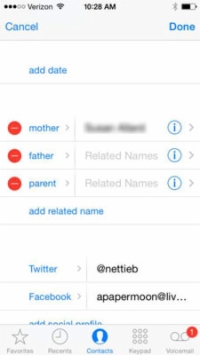 5

Tap the blue Information arrow in the field, and your Contacts list appears. Tap the person's name, and it appears in the field.

After you add relations to a contact record, when you select the person in the Contacts main screen, all the related people for that contact are listed there.

There's a setting for Linked Contacts in the Contacts app when you're editing a contact's record. Using this setting isn't like adding a relation; rather, if you have records for the same person that have been imported into Contacts from different sources such as Google or Twitter, you can link them to show only a single contact.