How To Find Your Way with iPhone Compass
How To Find Your Way with iPhone Compass
The Compass utility on your iPhone is a handy way to find your way out of the woods, assuming that you get 3G reception out there. The Compass is one of three utilities accessed from the second Home screen.
1

Tap the Utilities folder and then tap the Compass app.

The first time you do this, a message appears, asking if iPhone can use your current location to provide information.
3

Move around with your iPhone.

The compass indicates your current orientation in the world.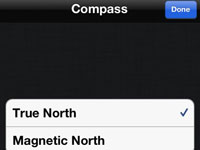 4

Tap the Information icon in the bottom-right corner.

A couple of choices appear. Choose True North or Magnetic North.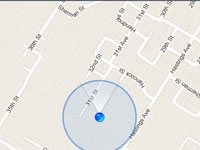 5

To go to your current location in the Maps app with the compass feature of that app activated, tap the Maps icon in the bottom-left corner of the Compass screen.

True North refers to the direction you follow from where you are to get to the North Pole; Magnetic North is correlated relative to the Earth's magnetic field. True North is the more accurate measurement because of the tilt of the Earth.