For Seniors: Download Magazine Apps to Newsstand on iPhone 4S
For Seniors: Download Magazine Apps to Newsstand on iPhone 4S
Newsstand is a new app for the iPhone 4S that focuses on subscribing to and reading magazines, newspapers, and other periodicals rather than books. The app has a similar look and feel to iBooks. When you download a free publication, you're actually downloading an app to Newsstand. You can then tap that app to buy individual issues.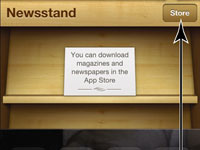 1

Tap the Newsstand icon on the Home screen to open Newsstand. Tap the Store button.

The store opens, displaying Featured periodicals; there are also Featured, Categories, and Top 25 icons along the bottom of the screen but these take you to other kinds of content.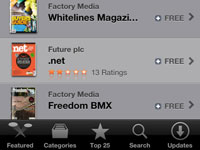 2

Tap any of the items displayed, scroll down the screen to view other choices, or tap the Search button on the bottom of the screen and enter a search term to locate a publication you're interested in.

If you tap other icons at the bottom of the screen, such as Categories or Top 25, you're taken to other types of content than periodicals. Also, if you tap the Featured icon again after tapping one of these icons, you're taken to other kinds of apps than periodicals.

If you're focused on finding only periodicals, your best bet is to stay on the Store screen that displays when you tap the Store button in Newsstand.