For Seniors: Create Repeating Calendar Events on iPhone 4S
For Seniors: Create Repeating Calendar Events on iPhone 4S
If you want an event to repeat on the iPhone 4S Calendar app, such as a weekly or monthly appointment, you can set a repeating event.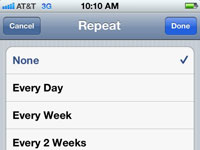 2

Enter a title and location for the event and set the start and end dates and times. Tap the Repeat field.

The Repeat dialog is displayed.
3

Tap a preset time interval: Every Day, Week, 2 Weeks, Month, or Year.

Tap Done. You return to the Add Event dialog.
4

Tap Done again to save your repeating event.

Other calendar programs may give you more control over repeating events; for example, you might be able to make a setting to repeat an event every Tuesday.

If you want a more robust calendar feature, you might consider setting up your appointments in iCal or Outlook and syncing them to iPhone. But, if you want to create a repeating event in iPhone's Calendar app, simply add the first event on a Tuesday and make it repeat every week. Easy, huh?