For Seniors: Create Playlists and Search for Audio with the iPhone 4S Music App
For Seniors: Create Playlists and Search for Audio with the iPhone 4S Music App
One your iPhone 4S, you can use the Music app to create your own playlists, and you can search for an item in your Music library by using the Search feature.
1

Tap the Playlists button at the bottom of the iPhone screen.

You can create your own playlists to put tracks from various sources into collections of your choosing.
2

Tap Add Playlist.

In the dialog that appears, enter a name for the playlist and tap Save.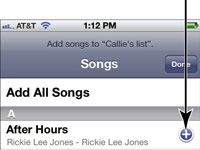 3

In the list of selections that appears, tap the plus sign next to each item you want to include.

Tap the Done button.
4

Tap the Playlists button to return to the Playlists screen.

Your playlist appears in the list, and you can now play it by tapping the list name and then tapping a track to play it.
5

With Music open, tap the Songs button and then flick downward on the screen to reveal the Search field.

To search for a song in your music libraries, use the Spotlight Search feature. From your first Home screen, you can swipe to the right (or tap the first magnifying-glass icon to the left on any home screen) and enter the name of the song. It should appear in a list of search results.
8

Tap an item to play it.

You can enter an artist's name, an author's or a composer's name, or a word from the item's title in the Search field to find what you're looking for.