For Seniors: Add Contacts to iPhone 4S
For Seniors: Add Contacts to iPhone 4S
The iPhone 4S Contacts app is simple to set up and use, and it has some powerful features beyond simply storing names, addresses, and phone numbers. Contacts is the iPhone equivalent of the dog-eared address book that sits by your phone.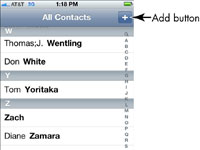 1

Scroll to your second Home screen and tap the Utilities icon, and then tap the Contacts app icon to open the application.

An alphabetical list of contacts appears.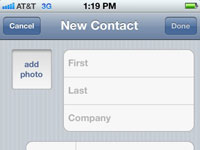 2

Tap the Add button, the button with the small plus sign (+) on it.

A blank Info page opens. Tap in any field, and the onscreen keyboard is displayed.
3

Enter any contact information you want.

Only one of the First, Last, or Company fields is required. To scroll down the contact page and see more fields, flick up on the page with your finger.
4

If you want to add a mailing or street address, you can tap Add New Address.

Additional entry fields open.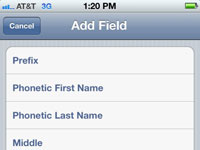 5

To add an information field such as Nickname or Job Title, tap Add Field.

The Add Field dialog appears.
6

Choose a field to add.

You may have to flick the page up with your finger to view all the fields.