Create iPhone Ringtones for Free in GarageBand
Create iPhone Ringtones for Free in GarageBand
The capability to create free iPhone ringtones with Apple's GarageBand application (which is bundled with every Mac) is relatively easy. Start by launching GarageBand on your Mac and creating a new iPhone ringtone project.
1

Click the Media Browser button to reveal the media browser pane.

Click the disclosure triangle to reveal the contents of your iTunes library.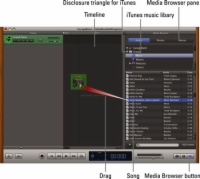 2

Click your iTunes music library to reveal its contents. Select the song you want to turn into a ringtone and drag it onto the timeline.

The bottom line is that you can make ringtones only from songs you've ripped yourself from CD or downloaded without rights management or other copy protection (such as MP3s from Amazon.com or files in Apple's iTunes Plus format).
3

Click the cycle region button to enable the cycle region.

Click in the middle of the cycle region and drag it to the portion of the song you want to use as your ringtone.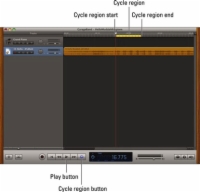 4

Fine-tune the start and end points by clicking and dragging the cycle region's left and right edges.

For best results, keep your ringtones under 30 seconds.
5

Click the play button to hear your work. When you're satisfied with it, choose Share→Send Ringtone to iTunes.

The next time you sync, your new ringtone becomes available on your iPhone. To use it as your ringtone, tap Settings→Sounds→Ringtone, and then tap the ringtone in the list of available sounds.

To associate the ringtone with a specific contact or contacts, find the contact in either the Contacts app or the Phone app's Contacts tab, tap Ringtone, and then tap the specific ringtone in the list of available ringtones.