Write and Send an E-Mail
After you have set up your e-mail account, you'll want to write and send an e-mail (or e-mails). Follow these steps to write and send e-mails to your friends and family: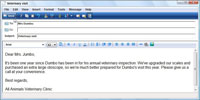 1

Open Windows Mail and click the Create Mail icon from the program's menu.

If you don't see a Create Mail icon along the top, click the File menu, select New, and choose Mail Message. A New Message window appears.

To send a quick e-mail to somebody in your Contacts folder, right-click his or her name, choose Action, and select Send E-Mail. Windows Mail opens an e-mail already addressed to that person, saving you a step.
2

Type your friend's e-mail address into the To box.

Or, click the To button next to where you type an address: A window appears, listing the names of people listed in your Contacts folder. Click your friend's name, click the To button, and click OK.
3

Fill in the Subject box.

Although optional, the Subject line lets your friends know why you're bugging them. That makes it easier for your friends to sort their mail.
4

Type your message into the large box at the bottom of the window.

Type whatever you want and for as long as you want. There's very little limit on the size of a text file.
5

To attach a file to your message, drag and drop the file onto the message or click the paper clip icon, navigate to the file, and double-click the file's name to attach it.

Most ISPs balk at sending files larger than about 5MB, however, which rules out most MP3 files and some digital photos.
6

Click the Send button in the box's top-left corner.

No Send button? Then click File in the New Message window and choose Send Message.