Vista's Hidden Menu Bar
To help you keep track of your computer's commands, Vista hides its menus inside the menu bar. In fact, Vista even hides every folder's menu bar. To bring them back, press Alt, and they drop into place. To keep the menu bars permanently affixed there: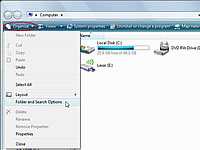 1

Click the Organize button, and then choose Folder and Search Options from the menu.

The Folder Options dialog box appears, opened to the General tab.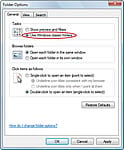 2

In the Tasks section, select Use Windows Classic Folders.

The folders revert to an older style of display that shows the menu bar.