Use System Restore
If your computer starts consistently misbehaving, you can use System Restore to return your PC to a point where it was working properly. System Restore works like this: Every day or so, Windows takes a snapshot, known as a restore point, of Windows' most important settings and saves them by date. When your computer begins acting up, tell System Restore to return to a restore point created when everything worked fine.
System Restore won't erase any of your files or e-mail, but programs installed after a restore point's date may need to be reinstalled. System Restore is also reversible; you can undo your last restore point or try a different one.
To send your computer back to a restore point, when it was working much better, follow these steps: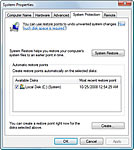 1

Save any open files, close any loaded programs, load System Restore, and click Next.

Choose Start, click All Programs, and begin weaving your way through the menus: Choose Accessories, select System Tools, and click System Restore. Click Next to move past the opening screen.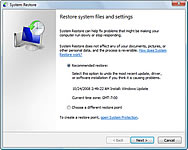 2

Choose a Restore Point and click Next.

Windows XP made you guess which restore point to apply. Vista assumes that you're here because something happened recently, so it highlights the most recently created restore point for you to choose.

If you're running these steps a second time, because Vista's recommended restore point didn't supply the magic fix, choose a different restore point and click Next.